The NEW 2016 Hess Toy Truck Is Coming Late Fall 2016. Sign Up For Notifications!
The New 2015 "Hess Trucks To The Rescue" Collector's Poster!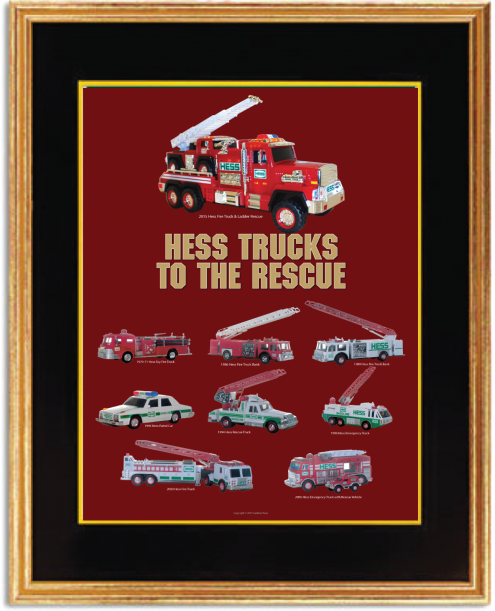 The Hess Truck Emergency & Rescue Theme debuted in 1970 with the very first Hess Toy Fire Truck.  There have been a total of 8 fire or emergency trucks through the years with The New 2015 Hess Truck & Ladder Rescue as the 9th in the series.  To learn more CLICK HERE..
Click Here For Details on Hess Truck Surprise Inside Combos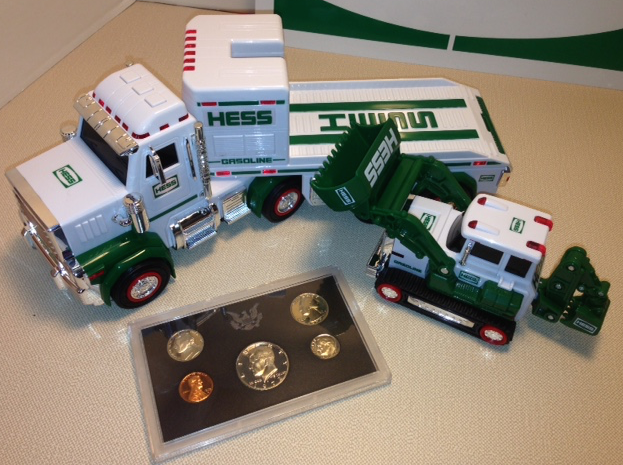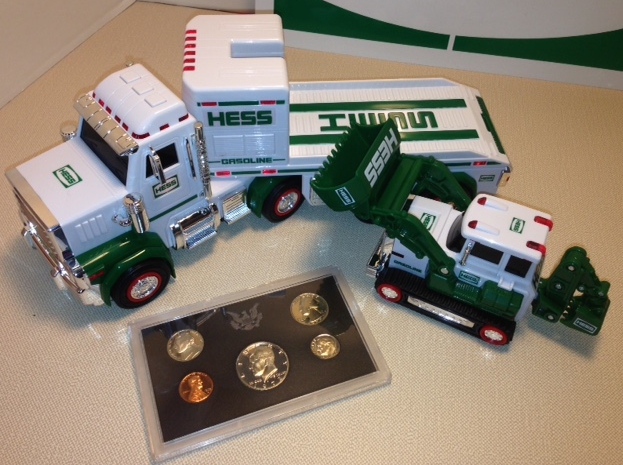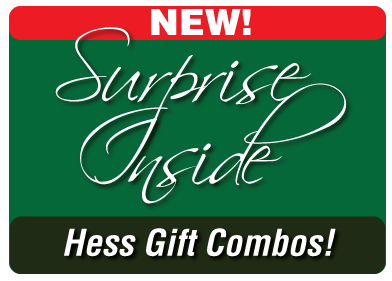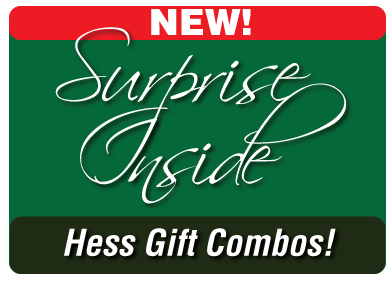 Brand New Mint In Box!
2014 Hess Toy Truck & Space Cruiser Combos!  
The NEW 2014 Hess Truck & Space Cruiser With Scout is the 50th Anniversary Hess Toy Truck. We have limited inventory remaining. Click Here for details. This unique 50th Anniversary Truck is also available in value priced combos. See  new 2014 Hess Truck & Space Cruiser With Scout Combos On Sale.
NEW Hess 50th Anniversary Set!  The 50th Anniversary Truck PLUS the Official Hess 50 Year Book!  CLICK HERE FOR DETAILS



Celebrating 50 Years of Hess Toy Trucks! See the 2014 BIG 4 Anniversary Package now on sale for $197.95. CLICK HERE for details.
NEW 
(Gold Edition)
Hess 50th Anniversary Poster
Click Here For Details $19.95.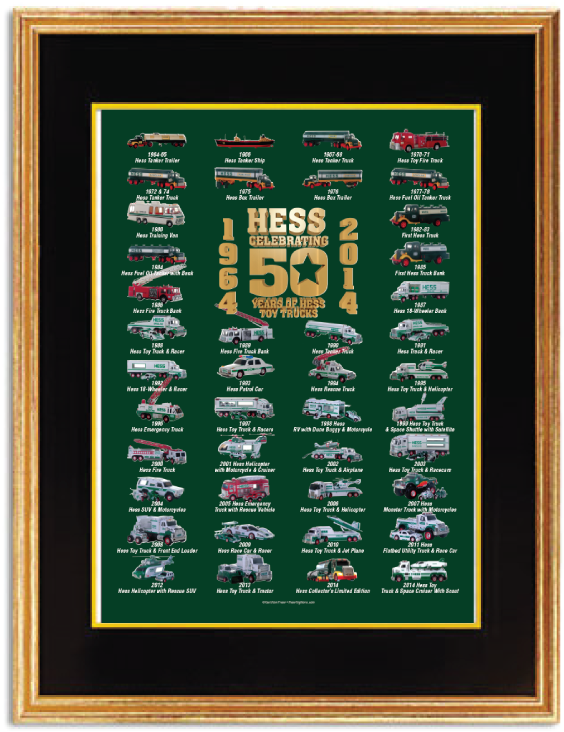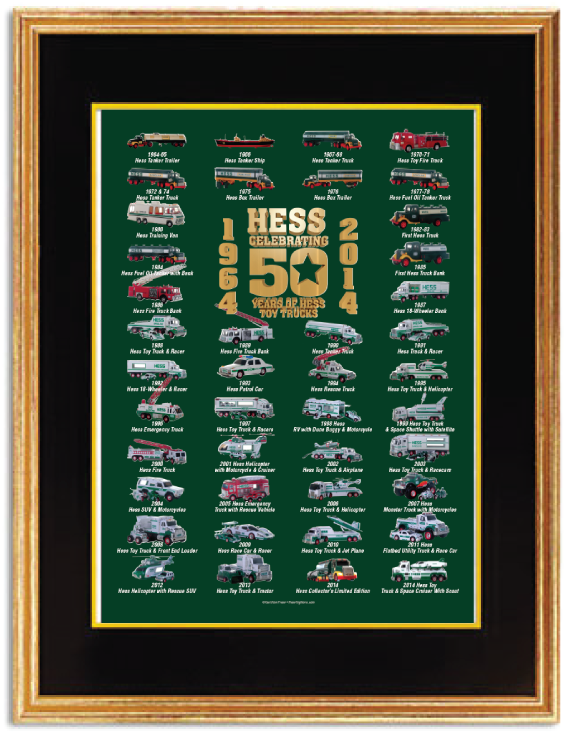 Heavy Duty Hess Trucks Now On Sale.

Our biggest, brawniest, "Big 4" Hess Heavy Duty Trucks! Now in one exciting collection for $179.95 and comes with bonus items!
2006 Hess Chrome Mini RARE 
Click HERE for details. Limited edition not sold to the public. Only  TWO in stock.  Buy now before the holiday rush.
Need It Faster?
Click here add PRIORITY SHIPPING per Truck.
Click here add EXPRESS SHIPPING per Truck.
The NEW 2015 Hess Fire Truck & Ladder is Here!
Hess Fire Truck Option on Sale vs. The 2015 Truck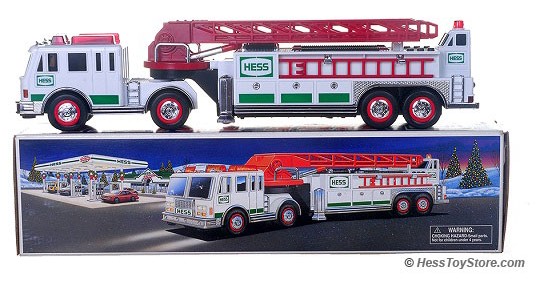 Click Here For Details!
Add A Race Car For Only $5.95 With Any New Hess Truck Purchase! 



Click Here for details on adding a 2011 Hess Race Car to your order!
"Hess Chopper" Birthday Bundle Sale!

Our best value birthday gift set this month is the "Hess Chopper" Birthday Bundle.  This unique bundle includes the 2006 Hess Truck & Helicopter, The 2014 Hess 50 Year Gold Edition Poster, The 2011 Hess Mini Helicopter, The Ultimate Hess Hobby Tool, AND includes our signature Hess Green Gift Wrapping! All for $79.95. CLICK HERE For Details.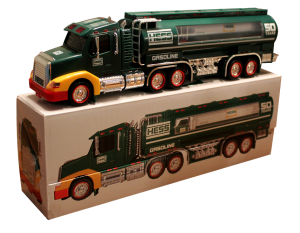 Hess Celebrates 50 Years With The 2014 Hess Collector's Limited Edition Truck!
This is an extraordinary collectible with over 100 LED lights. This is a limited edition Hess Truck that is numbered and comes with a certificate of authenticity. For more information go to:  "The Collector's Edition Hess Toy Truck" 


50 Years of Hess Toy Trucks Book!
The Hess Collector's Book, "50 Years of Hess Toy Trucks," is now on sale.  CLICK HERE for details. This 70 page hardback book with full color dust jacket is a spectacular chronicle of the iconic Hess Toy Truck covering the toy's 50 year history.
NEW 2014 Hess Mini Truck Poster

(Gold Edition)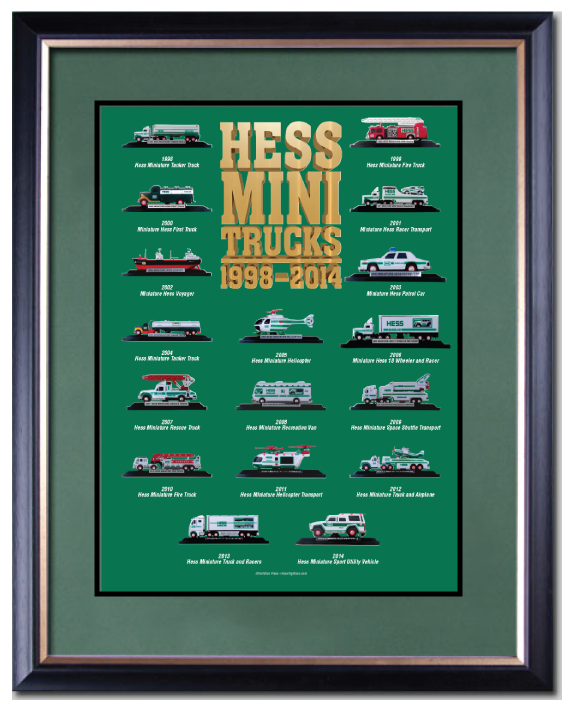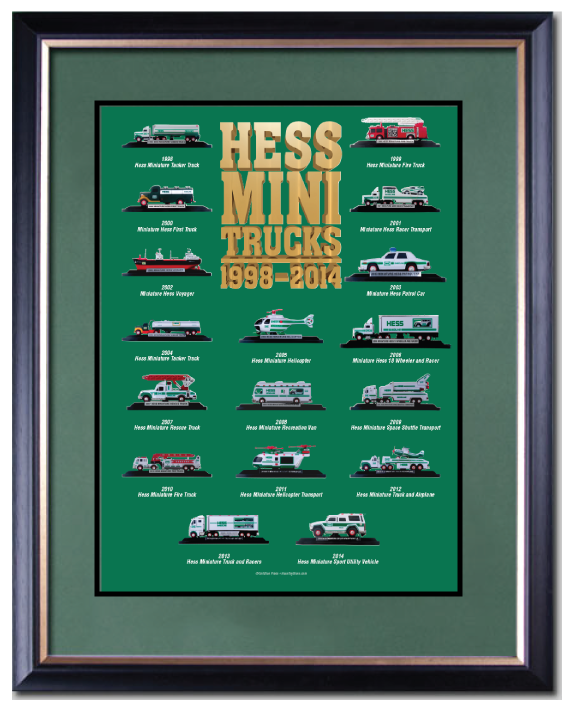 Click Here for details. Just $19.95.
NEW! Hess 50 Year Anniversary Combos
All of our Hess Trucks are brand new and guaranteed to work as promised unless noted otherwise!  Vintage Hess Trucks 25 years or older will provide more detail in the description on the condition for that specific toy. Vintage trucks will show normal signs of wear and boxes will show signs of shelf wear.  We do sell some refurbished Hess Trucks that are posted on the Scratch 'n Dent page.  Even though all refurbished Hess Trucks posted on this page are listed as used, rest assured that every truck has been tested and inspected and is guaranteed to work as promised!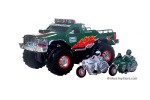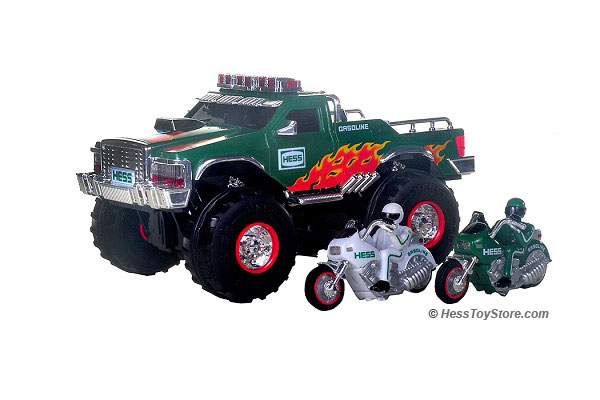 Monster Hess Toy Sale!
We're having a Monster Sale on the action-packed Hess Monster Truck with Motorcycles! Don't miss your chance save on this popular Hess Truck. CLICK HERE to learn more and see the video clip!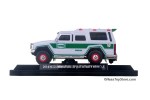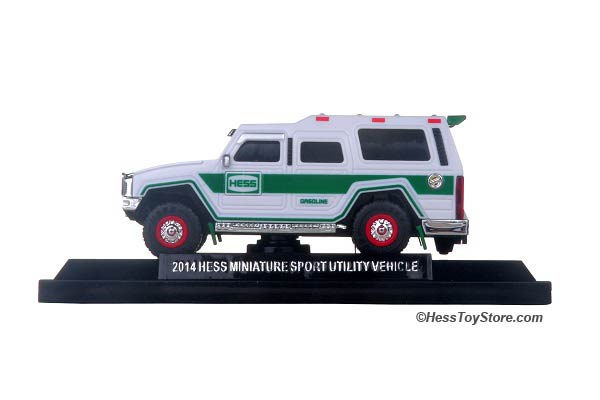 The New 2014 Hess Mini Truck Is Here!
The 2014 Hess Mini Truck is a SUV designed after the popular 2004 Hess SUV that celebrated the 40th anniversary of the Hess Truck. Click here for 2014 Hess Mini details.  You can also own the Complete Hess Mini Truck Collection, now on sale.  Limited Inventory Remaining!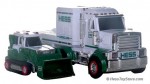 2013 Hess Truck & Tractor! Heavy Duty Fun!
Long-time Hess collectors believe that this 2013 Hess Truck edition will be one of the rare hard-to-find trucks for years to come. When they're gone, they're gone! Click here to order now. Only $55.95.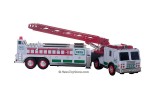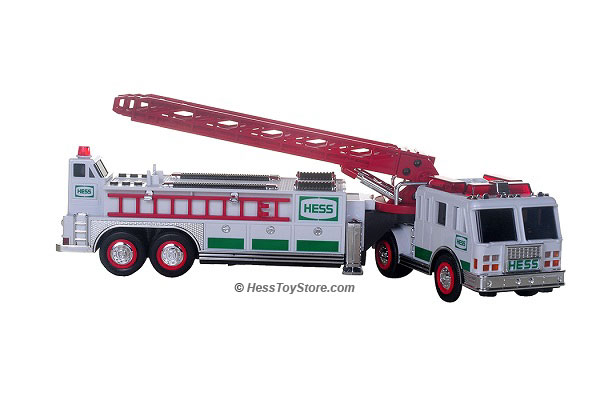 The 2000 Hess Fire Truck is Loooonnng on Fun!
Ladder Truck Sale!  Hess to the rescue! Exciting lights, sirens, and horn. Big extendible ladder and 2 small removable ladders. Our loooooonnngest Hess Toy Truck! Now on sale through December 25!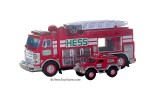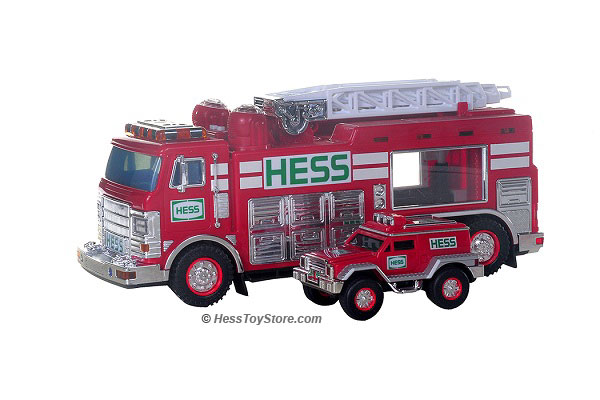 For a  Limited Time! Our best-selling Hess Emergency Truck! Multiple sounds, sirens, movable search light, and flashing emergency lights!  Rescue vehicle inside the Emergency Truck lights up!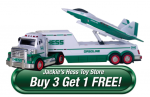 Shop Hess Toy Trucks By The Decade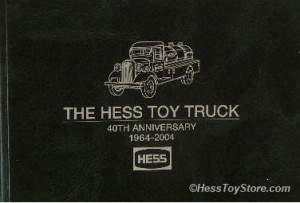 Hess Toy Truck 40th Anniversary Collectors Book
Your Hess Truck collection is not complete without this informative guide filled with pictures of every collectible Hess Toy Truck from the very first Hess Truck in 1964 through the 2004 Hess Truck Anniversary edition. This book is out of print and very limited quantities remaining. To order Click Here.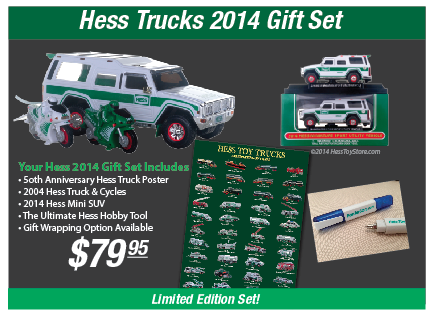 2014 Hess Mini Truck Included in The New 2004-2014 Gift Set
2014 Hess Gift Set: For a limited time you can order a set of Hess Toy Truck History. Your set includes 1.) The Hess Toy Truck 50th Anniversary Poster (Limited Edition), 2.) The 40th Anniversary 2004 Hess SUV Truck with Motorcycles, and 3.) The NEW 2014 Hess Mini Truck. The Hess Truck 2004-2014 Gift Set: $79.95 plus shipping.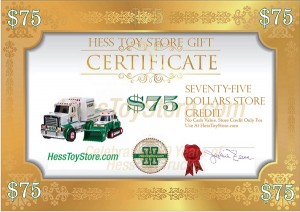 Give Hess Gift Certificates and Let Them Choose!
You can choose from 7 Hess Gift Certificate denominations.  We send your gift certificate direct to the recipient and include a personal note from you on a Hess "Just For You" card. Click Here for details.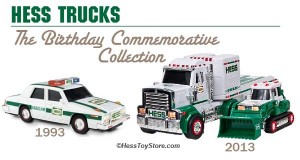 Celebrating Hess Trucks 50th Birthday!

 
The Hess Trucks Birthday Collections
1993-2013 Hess Trucks Birthday Collections: Gift packages Starting at $99.95 and includes FREE SHIPPING! CLICK HERE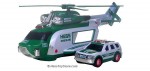 Featured Hess Toy Truck: The Hess Helicopter and Rescue SUV. Exciting lights and sounds and moving rotors capture the imagination of all age groups. Brand new mint in box,  Now on sale for Click Here.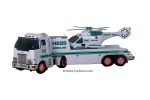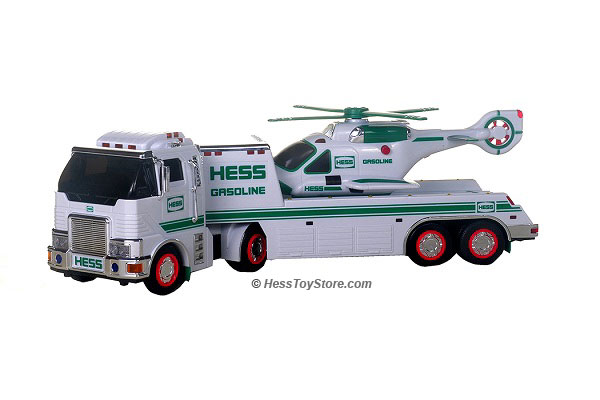 Save $10 Now On This Hess Gas Station Truck?
The 2006 Hess Truck and Helicopter Now On Sale! If you like Hess Trucks you see on Hess.com trucks, you'll love The 2006 Hess Truck & Helicopter pictured here and now on sale. See our other Hess Collectible Toy Trucks. For A Limited Time!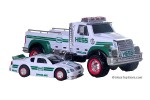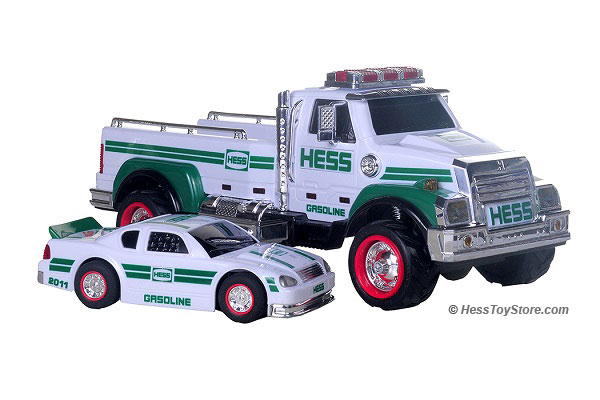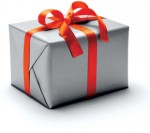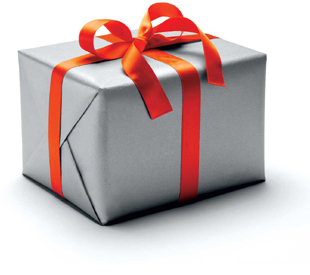 The ultimate Hess Gift idea.  See why they're cheaper by the 'doubles.'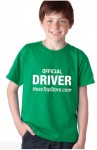 The Official Driver Hess Toy Store T-Shirt
Put your young Hess Truck Driver in uniform and add a smile to your Hess Truck order with an Official Driver Jackie's Hess Toy Store T-Shirt. Add it to your Hess Truck gift box! Youth sizes S, M, L. Only $15.95 and FREE shipping for your T-Shirt with any Hess Truck Order.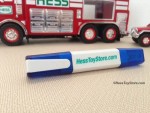 The Ultimate Hess Truck Tune Up Tool!
NEW! Hess 4 in 1 Blue Cap Hess Hobbyist Tool. Your essential tool to get 'under the hood' and  into your Hess Trucks! Click here to add it to your order.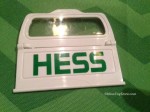 Need Hess Truck Parts?
Visit the Hess Truck Parts Store Online. We stock hundreds of Genuine Hess Truck Parts – Just too many to list here! If you cannot find a part, contact us and we will check availability.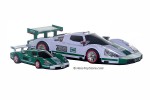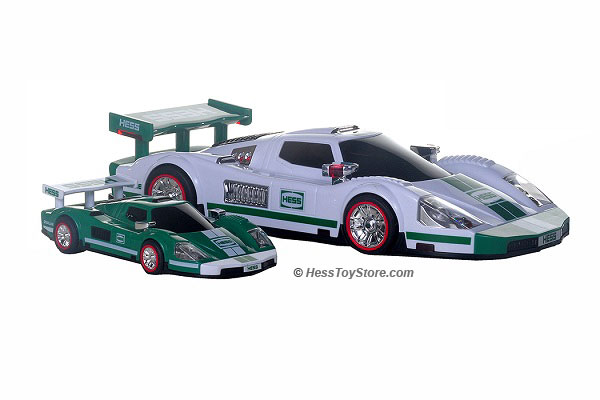 The High Performance 2009 Hess Race Car
The Sleek Collectible 2009 Hess Toy Race Car and Racer from the Hess Trucks Collection. This very popular edition in the Hess Truck series is loaded with exciting electronic lights and realistic race car sounds. Now on sale! $49.95

Hess Truck Collections
Be sure to check out our complete Hess Trucks collections. Packages priced from $99 and include FREE Shipping. Thank you for shopping Jackie's Hess Toy Store.
Jackie's Hess Toy Store is an independent retailer of Hess Toy Trucks and is not affiliated with Amerada Hess, Hess Oil, or Hess Corporation. We stock both vintage and new Hess Toy Trucks and ship to all 50 States.
International Shipping is available in select countries.  A flat international rate is set in the shopping cart.  We will notify you if there are any additional charges in shipping to your country. Canadian and EU customers will be responsible for applicable VAT taxes.
Inspected & Tested: All Hess Toys are carefully inspected and tested before shipping to ensure that the toy meets your expectations. Thank you for shopping with us!
Batteries:  Please note that due to FAA, FedEx, and US Postal regulations we no longer ship toys with batteries inside because of risks associated with air cargo fires.  See hazardous materials warning at this link.

Copyright Notice:  All materials contained on this web site are protected by United States copyright law and may not be reproduced, distributed, transmitted, displayed, published or broadcast without the prior written permission of Jackie's Hess Toy Store or Carillion Inc.  This includes all text and images which are © copyrighted and the property of Jackie's Hess Toy Store and Carillion Inc.  All rights reserved.  The Hess logo is a registered trademark and is the property of Hess Corporation.