Description

The 2020 Hess Ambulance & Rescue
(SOLD OUT)
Honoring our first responders the 2020 Hess Ambulance and Rescue Truck set is THE perfect holiday gift.
This is the very first time in over a half century of quality Hess Trucks that Hess Corporation introduced an ambulance in it's iconic series. This heavy duty Type I medical transport truck has 70 bright lights and 4 button activated sounds including a new unique siren sound synchronized with the flashing lights.
Included in this exciting Hess Toy Truck Set is a rugged off road pick up truck that features 26 bright lights and a pull back motor and flashy chrome accents.
Size of the Hess Ambulance is 11.5″L x 4″W x 4.4″H. The Hess Rescue pick up accessory toy is 5.5″L x 2.5″W x 2.5″H.
CLICK HERE To Add a "Hess To The Rescue" Collector's Poster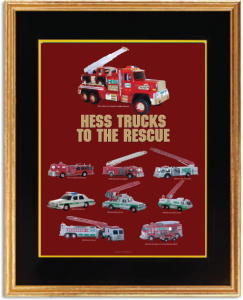 CLICK HERE To See the NEW "Hess To The Rescue" 2020 Combo!