Gasoline Trucks & Collectibles From Other Oil Companies and National Brands
Through the years we've collected some non-Hess gasoline toy trucks and put them away for the future.  From time to time we sell off some of this limited inventory.    In this section you will see toy trucks from gasoline and oil companies as well as a few other national brands.
Gasoline Toy Trucks
BP Oil Company
Esso Oil Company
Exxon Oil Company
Humble Oil Company
Mobil Oil Company
Shell Oil Company
Sunoco Oil Company
National Brand Toy Trucks 
Coca Cola
Crayola Brand
Seven Eleven 7-11
Dunkin Donuts
Various Toy Truck Materials
Please note that these special gasoline collector's trucks have differing types of materials. For example, the yellow Shell Oil Truck pictured above is made from cast metal while the Exxon Tanker  is constructed of molded plastic.  Also, some of the trucks like those made by Ertl are limited edition toys and are numbered.
Buy 3 Gasoline Trucks and Get 1 FREE!
We send you a FREE toy truck when you buy any 3 toy trucks from this page or section of the website.  Just put, "Gasoline Buy 3 Get 1 FREE" in notes section when you check out. Your FREE truck will be added to your order.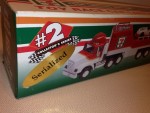 7-Eleven 1996 Toy Race Car Carrier
[empty_separator][/empty_separator]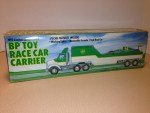 [empty_separator][/empty_separator]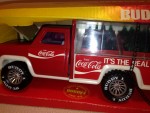 Coca Cola Buddy L #5217 Delivery Truck
[empty_separator][/empty_separator]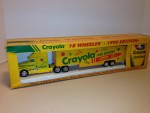 Crayola 1992 18 Wheeler w/24 Crayons
[empty_separator][/empty_separator]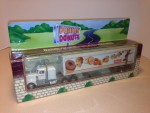 Dunkin Donuts 1994 Tractor & Trailer
[empty_separator][/empty_separator]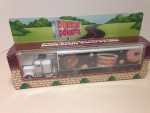 Dunkin Donuts 1995 Tractor & Trailer
[empty_separator][/empty_separator]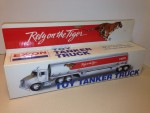 [empty_separator][/empty_separator]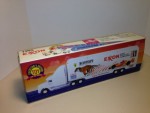 [empty_separator][/empty_separator]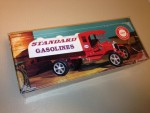 Exxon ESSO Standard Gasolines Toy Truck
[empty_separator][/empty_separator]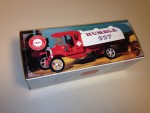 Exxon Humble 997 Toy Tanker Truck
[empty_separator][/empty_separator]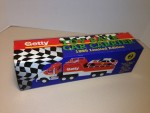 Getty 1995 Toy Race Car Carrier
[empty_separator][/empty_separator]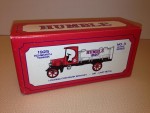 Humble 1925 ERTL Stock Number 3839 Kenworth Tanker Bank
[empty_separator][/empty_separator]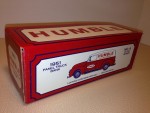 Humble 1951 ERTL Stock Number B547 Panel Truck Bank
[empty_separator][/empty_separator]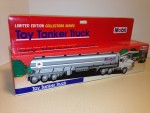 [empty_separator][/empty_separator]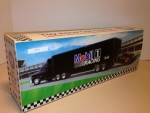 Mobil 1994 Toy Race Car Carrier
[empty_separator][/empty_separator]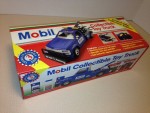 Mobil 1995 Collectible Toy Tow Truck
[empty_separator][/empty_separator]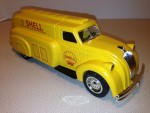 Shell 1938 Dodge Airflow Tanker Bank
[empty_separator][/empty_separator]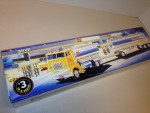 Shell 1995 Concept Tanker Truck
[empty_separator][/empty_separator]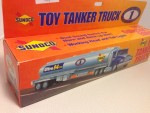 [empty_separator][/empty_separator]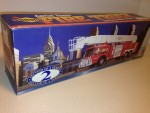 Sunoco 1995 Aerial Tower Fire Truck
[empty_separator][/empty_separator]