Description
The Ultimate Hess Truck Limited Edition Combo!  The 2018 Hess Collector's Limited Edition First Hess Truck
AND

The Rare Hess Collector's Limited Edition 50th Anniversary Hardcover Book! 

The NEW 2018 Hess Limited Edition Collector's Truck is one of the most RARE recent releases by Hess Corporation.  This truck sold out in less than 2 days!  We have a VERY Limited number and offering them to our valued customers in this unique commemorative combo.  You get BOTH the 2018 Hess 85th Anniversary Truck and the Limited Edition Hess Toy Truck 50th Anniversary Book. This is a rare out-of-print hardback  book commemorating the 50th Anniversary of the iconic Hess Toy Truck.  Title: 50 Years of Hess Toy Trucks Official Commemorative Anniversary Book.
COLLECTOR'S LIMITED EDITION HARDCOVER ANNIVERSARY BOOK
This is a beautiful 69 page full color hardcover book that chronicles the iconic Hess Toy Truck over the past half century.  This stunning 9″x 9″commemorative anniversary book provides full color photo and text detail on each Hess Truck produced over the past 50 years and includes rich historical facts that illuminate the journey of this world famous toy series.
BOOK: 50 Years of Hess Toy Trucks
ISBN-13: 978-1595910844
FORMAT: Hardcover with Full Color & Gold Foil Imprinted Dust Jacket
WEIGHT: 24 oz.
SIZE: 9″ x 9″ x 1″
LANGUAGE: English
PUBLISHER: Hess Corporation, Made in the USA
LIMITED INVENTORY: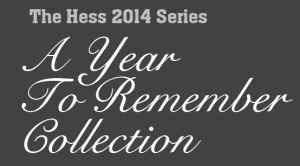 We also offer The Hess 2014 "Year To Remember Collection"  CLICK HERE TO SEE IT