Description
The 2015 Hess Fire Truck & Ladder Rescue
SKU: HES-15CZ

You get the exciting NEW 2015 Hess Fire Truck & Ladder Rescue.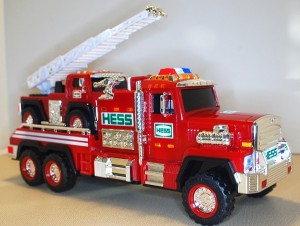 This popular Hess Truck sold out early in the 2015 holiday season.  It features flashing red, white, and blue LED lights on the fire truck and carries a smaller ladder rescue truck on the truck bed.  The 2015 Hess Toy Truck features lots of chrome and has exciting siren and truck sounds.  The toy is about 11″ long and ships in a colorful Hess Toy Carton.
---
2015 Hess Toy Truck Commercial from Brigid McBride on Vimeo.